Okay here's the thing people: I do like spikes, chains, and studs, but this is just getting out of hand. Why must I dress like I'm in Demolition Man all the time? Are we all really that tough? I wonder what all the true punk rockers think about this high/low fashion swagger jack of their style. What do you do when your personal style becomes mainstream? Do you continue and let people who don't know you assume you're following the trend or do you change your style in order to stay away from the masses?

Everywhere I go I see old people, young people, men, women, and babies dressed like their are from the badass future who have come to this present to take over. OOOOOO I have so many spikes on my shoulder that this article of clothing isn't functional anymore. Aren't I so avant garde? No. No you are not. Why? 'Cause Becky's mom has the exact same shirt on. If you aren't Lady GaGa or a model in a fashion show then you have absolutely no reason to be wearing that amount of decoration (you hear that Rihanna? Stop your shxt!).

All these people look like a battle between the TKO Crew and the Electros from Breakin' 2: Electric Boogaloo.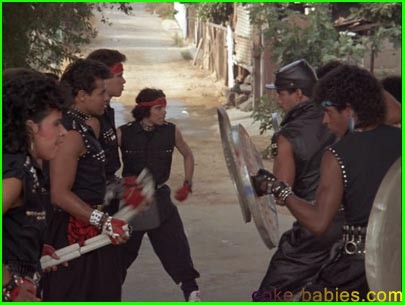 In the end ok, I get it. You're a futuristic robot who came back merely to be fashionable, not to help the economy, not to give us warnings about the future, not to tell us the cure to AIDS or cancer, just to be fashionable. But could you STOP thinking you're so avant garde because you literally have the world on your shoulders. Please and Thank you.




P.S.
I see ya'll. I know where I remember you from.